9 Ways to manage your multiple eCommerce Warehouses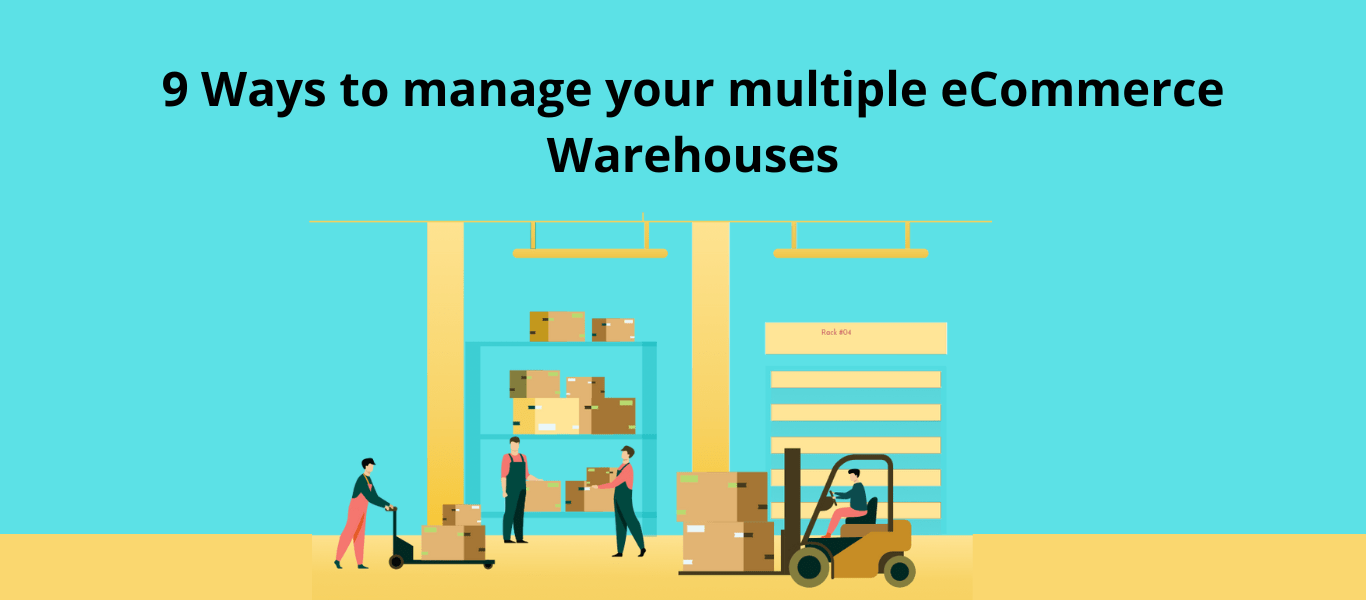 Although Roman warehouses were used to store grain, olive oil, wine, food, textiles, and marble as early as the second century BC, the idea of an eCommerce warehouse is more recent.
Online businesses rely on effective warehousing to enable future growth in the fiercely competitive world of e-commerce.
Multi-Warehouse Management
The management of operations across several warehouses is referred to as multi-warehouse management. The phrase refers to all activities that involve personnel, inventory, shipping, storage, and movement of commodities. Multi-Warehouse Management is used more specifically in the context of e-commerce, where it refers to the logistics involved in delivering and fulfilling orders from various warehouses. There are numerous reasons why an online shop may ship from different warehouses.
However, multiple eCommerce warehousing gets a lot more difficult every time your company reaches a new turning point. You might face any of the following difficulties as you go through different growth stages:
Problems with communication between warehouses
Inadequate control over inventory levels across all sites
Rating for several warehouses
Outgrow your initial storage facility
Have a surplus of safety stock that needs to be kept somewhere else
Decide whether to buy land or rent a warehouse.
Invest in the warehouse's ulfilment infrastructure, which should include personnel, technology, certifications, shipping supplies, forklifts, and other machinery.
Introduce new sales channels and require capabilities for multichannel inventory management.
Reduce transit times and shipping costs by opening or growing into a second ulfilment center.
Expanding your overseas ulfilment capabilities and going global
Finding the best eCommerce storage solution for you and one that won't need to be updated within months involves a lot of factors and there is no one path that firms pursue (or even years).
(1) Being accurate up front will spare you headaches later:
You must be completely accurate. You want a negligible amount of errors per order line. For retailers, that is a key WMS inclusion. Your WMS must accurately and with the minimum amount of error record all inventory transactions. By thoroughly inspecting this crucial component, you will ultimately save time on damage management. For that item, one incorrect number can spread over your entire store network.
(2) Training:
To get your employees up to speed with the WMS you choose to install, top-notch partner training should be provided. This is crucial when you need to hire temporary labour because of peak demand. The system must also be user-friendly and simple to use so that everyone on the team can use it without difficulty or error.
(3) Scalability:
You have plenty of potentials to expand in e-commerce, but if you want to pose a threat to the bigger fish, you'll need to be able to scale up. It's crucial to pick a WMS that can develop and grow alongside you, especially in the ever-evolving world of eCommerce. Also take into account your partner's longevity, openness toward technology and improvements, and local and international repute.
(4) Data:
Many businesses are either lacking in data to use, or they have an abundance of data but are unsure of what to do with it. For precise forecasting and planning, data integrity is crucial. You can base your judgments on the innumerable rich reports that the ideal WMS will give you.
(5) Return on Investment:
You must be an expert in numbers to present a compelling business case for a new eCommerce WMS. Making the wrong WMS selection could end up costing your company far more than it would end up saving you.
Beware of the hidden expenses of warehouse management software, which may appear to be less expensive. These costs may include integrations, customization, updates, maintenance, IT resources, and fixed additional licenses.
(6) Onsite vs. cloud:
By selecting a cloud-based option over an on-premises solution, cost viability can be ensured in perhaps the least demanding way possible. Due to the lower cost of the planning and implementation, a cloud-based warehouse system will cost less than allowing an on-premise system.
Regularly, you'll have access to more devices without worrying about equipment charges. Your cloud-based WMS supplier should regularly update your system with the top features. At that point, the system will typically be in its most advanced configuration without the need for re-establishment hassle.
(7) Interfacing and Integration:
Any other ERP software you are using will smoothly integrate with the appropriate WMS for your eCommerce firm. Flexibility in your WMS is crucial, but ideally, you want to spend as little money as possible building integrations; a good option is to select a WMS that includes a list of pre-built off-the-shelf connections.
(8) Capabilities:
You can implement advanced customer satisfaction approaches like moving wave arranging with the help of advanced warehouse management systems. You can replace goods more quickly if you can get them out of your warehouse.
Consider whether you want your WMS to integrate with your sales channels as well. Whether you are a store or a supplier, your software should be flexible enough to accommodate any client's needs and encompass various delivery phases (dock to the warehouse, as well as last-mile delivery).
Make sure that your warehouse management system, along with your stock, purchase order, and order preparation systems, are flexible enough to work with the different delivery carriers that each online retailer uses.
(9) Records of Warehouse Activity and Real-Time Data:
You can choose better when it comes to inventory if you have access to the top to bottom warehouse data and insights. Stock speaks to locked-up money, therefore having too much of it can quickly undermine a healthy organization by resulting in indirect costs as well as direct costs.
Utility bills and rent for a warehouse are some immediate costs. The charges you incur to transport that merchandise are an example of an aberrant cost.
Conclusion
Ecommerce retailers must take several factors into account when they decide to expand to more than one warehouse. Any retailer would be wise to put in place a potent multi-warehouse management system that transforms every order into a useful piece of data if the objective is expansion with a strategic management plan.
Every firm needs a good inventory management system to be successful, but this is especially true if you have several warehouses.
Ensure synchronisation,
Use analytics to enhance your inventory's ROI,
Keep your inventory under control, and
Create superior multi-warehouse management plans using reports.
This is important information because managing inventory across many warehouses may be complex and complicated.
Feeling afraid when you consider how much work you must complete to ensure effective multi-warehouse inventory management?
Find out more about how eComGlobus and how it can assist you in mastering multi-warehouse management with a service designed to connect with your Shopify stores without any issues.
To know more: Schedule a demo