Top 4 strategies to fulfil eCommerce customer expectations in 2022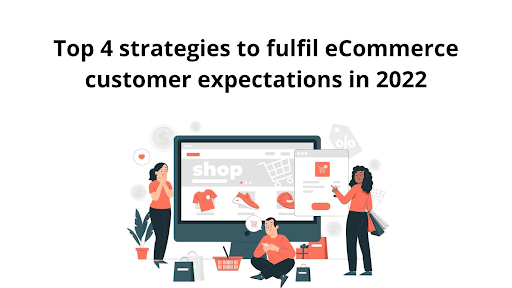 If there's one thing we've learned about eCommerce, it's that customer expectations change all the time. The digital landscape has never been more dynamic — or competitive – than it is now, because of the COVID-19 pandemic.
To stay relevant, legacy merchants who were once mostly physical and mortar have been obliged to spend considerably on their online presence. The epidemic has put a lot of pressure on merchants to keep up with consumer expectations for near-instantaneous, omnichannel service, from same-day delivery to social commerce and self-service solutions.
It will be difficult to match client expectations in 2022 if you don't have the following strategies well-integrated into your operation. As ongoing supply chain disruption and shifting reasons for shopping online continue to affect consumer behaviour, you may give your company a competitive advantage by taking action now:
(1) Provide several payment choices. : Accepting the typical payment card alternatives is no longer adequate for your online store. The number of payment alternatives available to consumers has grown in tandem with the expansion of digital purchasing capabilities.
Consumer shopping behavior has shifted dramatically as a result of the rise of digital wallets and cryptocurrency. Credit cards are losing popularity.
Due to strong patronization by young consumers, the use of Buy Now, Pay Later (BNPL) programs nearly doubled compared to the same period in 2020. It's critical to offer a variety of debit and layby options if you want to attract the discretionary spending of younger customers. One of the most common reasons for eCommerce cart abandonment is a lack of attractive payment choices. If customers have an option between you and another vendor who provides BNPL services, it's very clear who they'll choose. You can increase conversions and exceed customer expectations for a smooth payment process by giving customers flexibility and choice in how they go through the checkout process.
(2) Ecommerce returns as a growth strategy. : Customers return things for many reasons, ranging from a simple change of heart to more sophisticated issues such as damaged or defective merchandise.
Return management will be one of the most essential CX management techniques in 2022, with supply chain difficulties expected to persist for some time. You're missing out on a major chance to add revenue-saving activities into your return workflow if you regard returns as the end of a customer relationship rather than an opportunity to create customer loyalty. As the epidemic compels customers to rely more on internet purchasing, they have more expectations for a variety of return options to fit their needs. According to Magneto Solutions, 69 percent of consumers desire the ability to return online purchases to a physical store, and more than half prefer extended return/exchange windows. Your firm can streamline the return experience and sustain client relationships by investing in a variety of tactics such as in-store returns, self-service return portals, and free return shipping for exchanged items. Consumers are far more inclined to shop with your business in the future if they know the return process is simple.
(3) Bringing in-person experiences to the digital realm : While many consumers are turning to eCommerce out of necessity, there is a growing demand for immersive shopping experiences that counteract the impersonal nature of online purchasing.
Over a fifth, (22%) of returns are made because the goods do not look like what the customer expected when they bought them. Augmented Reality has been a game-changer because it provides the immersive quality that eCommerce frequently lacks, allowing customers to 'experience' things before they buy them and see how they will look. Such tactics, when combined with real-time chats with customer service employees via live chat, go a long way toward reducing return rates.Some digitally native firms are taking it a step further by moving online shopping away from static product catalogs and toward 3D-rendered virtual store experiences, where customers can browse real product displays and even converse with avatars dressed as store personnel.As these tools grow more popular, failing to embrace their potential will make your company appear behind the times. The more enjoyable your shopping experience is, the more likely shoppers will become paying customers.
(4) Putting money into social commerce : Getting new clients has never been more difficult — or more expensive – than it is right now. Increased competition, lesser organic reach, and greater sponsored search prices have rendered many client acquisition tactics unworkable in the long run, even as more customers migrate online to satisfy their requirements.
Which is the more cost-effective option? You should meet your clients where they are already.
As social media platforms become the primary means for researching companies and items, social commerce, in which consumers may complete their full purchase trip within a social media app, has exploded.
One of the most significant benefits of social commerce is that the majority of digitally native firms are already heavily reliant on social media for brand storytelling and community building, especially in the COVID-19 era, when in-person activations are risky. Social commerce is merely an extension of these capabilities, as it eliminates the need to direct potential consumers away from your profile to complete transactions – a friction point that might cause shoppers to abandon your funnel.
However, if you're going to invest in social commerce, you need to be highly aware of what your customers want. To develop consumer confidence and readiness to purchase from your business, high levels of social proof are required, which involves being very active in communicating with your customers across platforms. Responding to comments, soliciting input on new products, and finding pain points in the purchasing process are all ways to encourage your followers to buy.
eComGlobus: Building Memorable E-Commerce Experiences
It's not just about location or how quickly you fulfil orders to make fulfilment a competitive differentiation for your ecommerce firm. It's also about providing a great buying experience that personalises every touchpoint, from the first website visit through the delivery of a package to your customer's door. eComGlobus are committed to assisting merchants in growing their businesses by improving the consumer experiences both before and after the sale. Merchants can create flexible, responsive shopping journeys and fulfilment strategies that enhance customer satisfaction and loyalty by combining best-in-class ecommerce fulfilment with advanced personalisation and customer support during the purchasing trip.