Top 5 benefits in E-commerce Inventory Management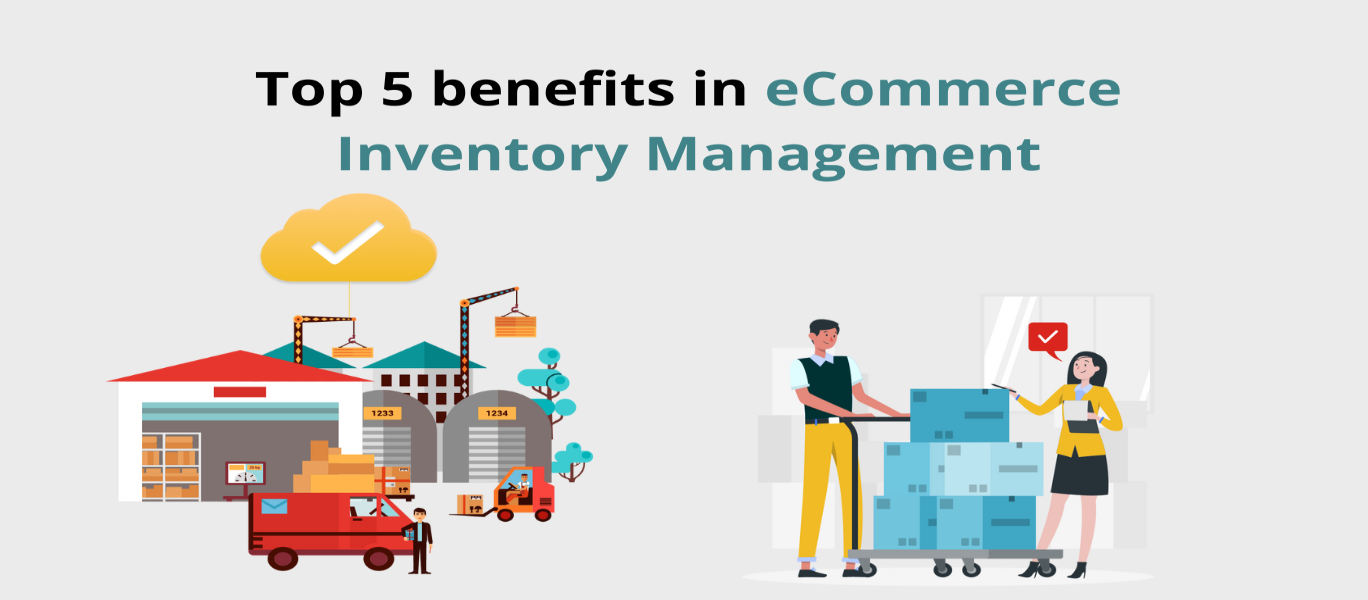 Every firm needs inventory management, but e-commerce companies that deal with enormous volumes of consumers, items, and orders have an even greater need for it.
You will be more effective and capable of expanding your e-commerce firm the faster you can establish a solid inventory management system. Even the smallest details in inventory management can have a significant impact on future profitability and scalability.
When it comes to managing inventories, there are many significant advantages. One of the biggest advantages of controlling your e-commerce inventory is that it keeps your supply chain organised and productive. Lack of inventory control could result in disgruntled consumers and shortages, therefore it's important to monitor how many goods your business is moving.
Any issues you have with inventory management could result in dissatisfied clients, protracted lead times, and overall revenue loss. The dead stock might also be a problem and harm your organisation as you strive to accomplish new objectives.
Your company will be able to get an advantage with more intelligence and money once you've fully mastered e-commerce inventory management because you'll have a better understanding of your inventory and be able to expand strategically.
What is eCommerce Inventory Management?
You probably already know how crucial inventory management is, especially for e-commerce businesses. But what exactly is inventory management? At some point or another, everyone has wondered about that. Here is a brief explanation: E-commerce inventory management involves keeping track of the quantity, location, cost, and variety of products that are offered across your entire company.
The items you monitor and manage may all be found in your warehouse or with the assistance of a third-party logistics partner (3PL). You might also need to track the goods that pass through a drop shipping or blind shipping company's warehouses if you work with them.
A 3PL might be ready or able to assist you with inventory tracking in some circumstances, but it's crucial to know which goods are overstocked, in stock, understocked, or out of stock. You won't be able to successfully manage your business if you don't understand this.
Your company's inventory is always closely related to its financial health. Inventory tracking systems allow you to determine the value of your stock as well as purchase patterns, which help you run a profitable business and consistently make wise decisions.
Following are the benefits of eCommerce Inventory Management:
Effective Business Techniques
A warehouse or online store can be created in a variety of ways. Although it's not always that easy to add a new employee or make a new spreadsheet, it can be done. Utilising warehouse management or inventory management software is a terrific method to use technology to improve the efficiency of your business operations.
You can manage your workforce, inventory, and overall warehouse efficiency with the aid of these software programs.
Your e-commerce company will flourish if you take charge of the results by analysing your current business methods critically and making every effort to make them more effective.
Maintaining a Record of All Inventory
Large companies with expansion plans will have a lot of inventory and frequently change the products that are kept in that warehouse and sold to customers. The management of their storage will get more challenging as new products are continuously added.
It's helpful that you can track all inventory products in your warehouse and keep an eye on them. Furthermore, you'll need to set up effective inventory management so that you can place new orders for stock when certain things run out.
You may make SKUs, and labels, and track all data in a shareable cloud with the aid of an effective inventory management application. A cloud-based solution is simple to expand if your company expands to encompass more than one warehouse. You won't have to worry about how you'll communicate across sites, and you can still keep track of each piece of merchandise from receipt to delivery.
Making Sure All Customers Are Content
Customers will assume that things shown as in stock on your website are available for purchase and that they are in stock.
When it comes to inventory management within your organisation, keeping your website's inventory counts correct and current is half the battle. A good inventory management system will be able to maintain accurate stock levels across all sales channels so that no item is ever "over-purchased."
Get rid of outdated and deadstock inventory
Deadstock can be a significant financial burden for your company, particularly if you have a large amount of it and are utterly unable to sell it. Inventory that is out of date is also known as deadstock. We go into further detail about the dos and don'ts of inventory management in this guide to obsolete inventory to assist you to make sure you're constantly doing everything you can to keep your inventory flow beneficial.
In the end, dead inventory will hurt your company's performance and prevent you from expanding. By keeping track of your stock counts and ordering procedures, you may simply avoid having dead stock and obsolete inventory.
Take Care of Your Clients to Keep Them Coming Back
Customers will always seek to return to a business that performs well, fulfils orders fast, and provides exceptional customer service. You'll be able to nurture your clients and keep them coming back when they're ready to place another order by adhering to these rules and keeping your inventory processes under control.
Contact Scout if you're seeking the ideal inventory management system to assist you to manage your inventory and keep consumers pleased. We'd be delighted to show you topShelf, our inventory management solution, for free.
Conclusion
An inventory management system improves productivity throughout the logistics industry. You can keep your customers happy if you partner with a warehouse that employs cutting-edge, real-time inventory management solutions.
Are you seeking an integrated B2B order management omnichannel inventory management solution for your eCommerce business? Send us an email at sales@logixgrid.com. or sign up for a demo directly here.