9 Ways to manage your multiple eCommerce Warehouses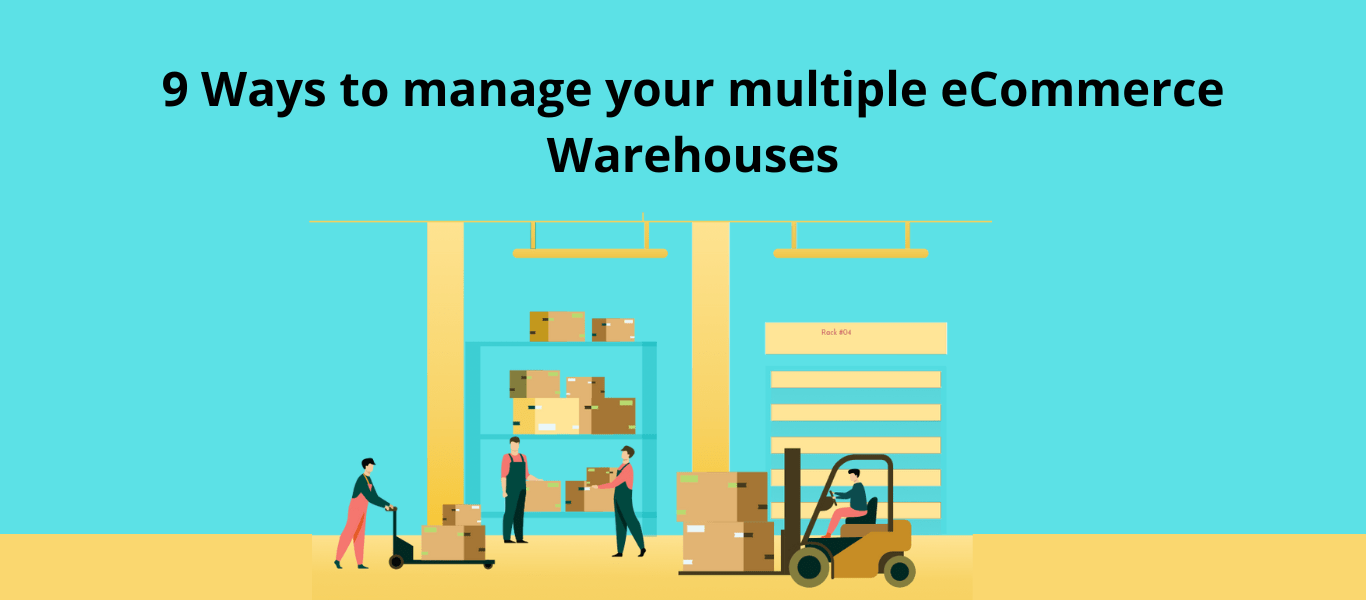 Although Roman warehouses were used to store grain, olive oil, wine, food, textiles, and marble as early as the second century BC, the idea of an eCommerce warehouse is more recent.
Online businesses rely on effective warehousing to enable future growth in the fiercely competitive world of e-commerce.
Multi-Warehouse Management
The management of operations across several warehouses is referred to as multi-warehouse management. The phrase refers to all activities that involve personnel, inventory, shipping, storage, and movement of commodities. Multi-Warehouse Management is used more specifically in the context of e-commerce, where it refers to the logistics involved in delivering and fulfilling orders from various warehouses. There are numerous reasons why an online shop may ship from different warehouses.
However, multiple eCommerce warehousing gets a lot more difficult every time your company reaches a new turning point. You might face any of the following difficulties as you go through different growth stages:
Problems with communication between warehouses
Inadequate control over inventory levels across all sites
Rating for several warehouses
Outgrow your initial storage facility
Have a surplus of safety stock that needs to be kept somewhere else
Decide whether to buy land or rent a warehouse.
Invest in the warehouse's ulfilment infrastructure, which should include personnel, technology, certifications, shipping supplies, forklifts, and other machinery.
Introduce new sales channels and require capabilities for multichannel inventory management.
Reduce transit times and shipping costs by opening or growing into a second ulfilment center.
Expanding your overseas ulfilment capabilities and going global
Finding the best eCommerce storage solution for you and one that won't need to be updated within months involves a lot of factors and there is no one path that firms pursue (or even years).
(1) Being accurate up front will spare you headaches later:
You must be completely accurate. You want a negligible amount of errors per order line. For retailers, that is a key WMS inclusion. Your WMS must accurately and with the minimum amount of error record all inventory transactions. By thoroughly inspecting this crucial component, you will ultimately save time on damage management. For that item, one incorrect number can spread over your entire store network.
(2) Training:
To get your employees up to speed with the WMS you choose to install, top-notch partner training should be provided. This is crucial when you need to hire temporary labour because of peak demand. The system must also be user-friendly and simple to use so that everyone on the team can use it without difficulty or error.
(3) Scalability:
You have plenty of potentials to expand in e-commerce, but if you want to pose a threat to the bigger fish, you'll need to be able to scale up. It's crucial to pick a WMS that can develop and grow alongside you, especially in the ever-evolving world of eCommerce. Also take into account your partner's longevity, openness toward technology and improvements, and local and international repute.
(4) Data:
Many businesses are either lacking in data to use, or they have an abundance of data but are unsure of what to do with it. For precise forecasting and planning, data integrity is crucial. You can base your judgments on the innumerable rich reports that the ideal WMS will give you.
(5) Return on Investment:
You must be an expert in numbers to present a compelling business case for a new eCommerce WMS. Making the wrong WMS selection could end up costing your company far more than it would end up saving you.
Beware of the hidden expenses of warehouse management software, which may appear to be less expensive. These costs may include integrations, customization, updates, maintenance, IT resources, and fixed additional licenses.
(6) Onsite vs. cloud:
By selecting a cloud-based option over an on-premises solution, cost viability can be ensured in perhaps the least demanding way possible. Due to the lower cost of the planning and implementation, a cloud-based warehouse system will cost less than allowing an on-premise system.
Regularly, you'll have access to more devices without worrying about equipment charges. Your cloud-based WMS supplier should regularly update your system with the top features. At that point, the system will typically be in its most advanced configuration without the need for re-establishment hassle.
(7) Interfacing and Integration:
Any other ERP software you are using will smoothly integrate with the appropriate WMS for your eCommerce firm. Flexibility in your WMS is crucial, but ideally, you want to spend as little money as possible building integrations; a good option is to select a WMS that includes a list of pre-built off-the-shelf connections.
(8) Capabilities:
You can implement advanced customer satisfaction approaches like moving wave arranging with the help of advanced warehouse management systems. You can replace goods more quickly if you can get them out of your warehouse.
Consider whether you want your WMS to integrate with your sales channels as well. Whether you are a store or a supplier, your software should be flexible enough to accommodate any client's needs and encompass various delivery phases (dock to the warehouse, as well as last-mile delivery).
Make sure that your warehouse management system, along with your stock, purchase order, and order preparation systems, are flexible enough to work with the different delivery carriers that each online retailer uses.
(9) Records of Warehouse Activity and Real-Time Data:
You can choose better when it comes to inventory if you have access to the top to bottom warehouse data and insights. Stock speaks to locked-up money, therefore having too much of it can quickly undermine a healthy organization by resulting in indirect costs as well as direct costs.
Utility bills and rent for a warehouse are some immediate costs. The charges you incur to transport that merchandise are an example of an aberrant cost.
Conclusion
Ecommerce retailers must take several factors into account when they decide to expand to more than one warehouse. Any retailer would be wise to put in place a potent multi-warehouse management system that transforms every order into a useful piece of data if the objective is expansion with a strategic management plan.
Every firm needs a good inventory management system to be successful, but this is especially true if you have several warehouses.
Ensure synchronisation,
Use analytics to enhance your inventory's ROI,
Keep your inventory under control, and
Create superior multi-warehouse management plans using reports.
This is important information because managing inventory across many warehouses may be complex and complicated.
Feeling afraid when you consider how much work you must complete to ensure effective multi-warehouse inventory management?
Find out more about how eComGlobus and how it can assist you in mastering multi-warehouse management with a service designed to connect with your Shopify stores without any issues.
To know more: Schedule a demo
Top 7 Challenges of Order Management System in E-commerce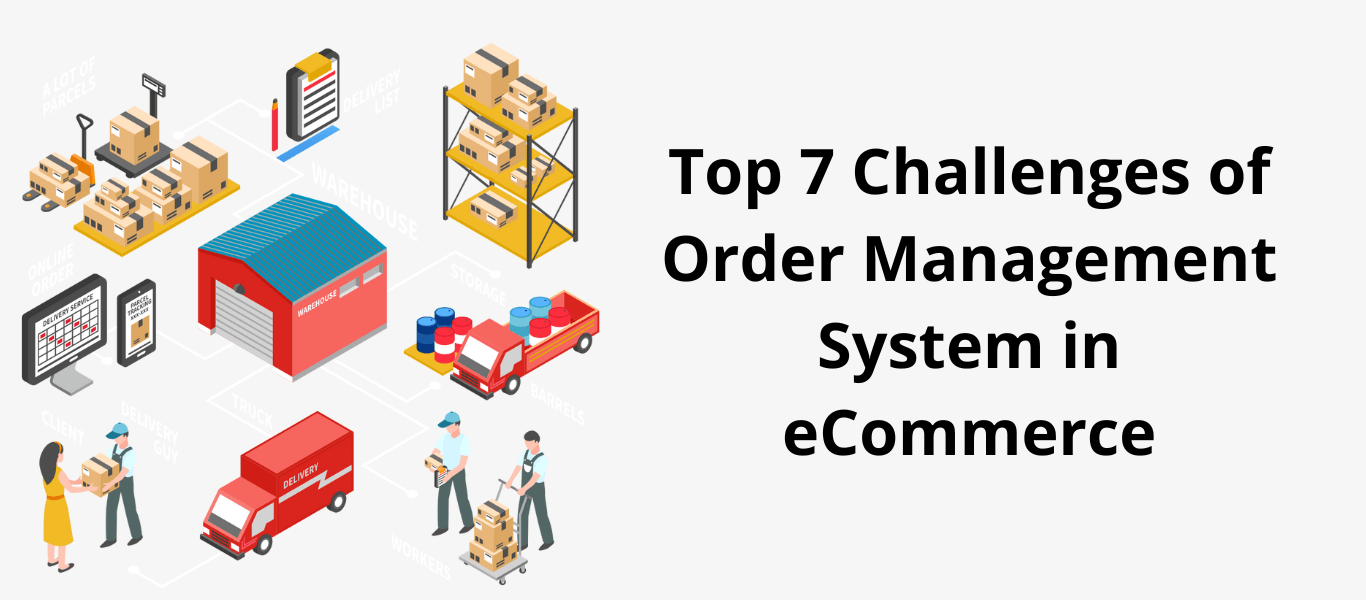 Getting customers on board was the largest difficulty for early adopter businesses when e-commerce was still the newest method of conducting business. However, as it gained popularity, businesses rapidly understood that the actual difficulty resides in coordinating order processes across many sales channels. Managing and completing orders effectively is a great method to guarantee a positive client experience in the face of increased competition.
Because of this, a good order management system is crucial for e-commerce service excellence. Effective inventory management is made possible by a competent e-commerce order management system, and this indirectly lowers the liability of cancellations and returns. If the business has a compatible ecommerce order management platform, millions in operating costs can be saved, and billions in brand equity can be added.
Every e-commerce company must, however, deal with a few fundamental difficulties with order management systems. By recognizing and fixing these issues, you can overcome them and create a long-lasting e-commerce business.
The Order Management System's Seven Common Obstacles
(1) Data discrepancies and gaps: Millions of touchpoints become vulnerable to data gaps and inconsistencies when an e-commerce organisation scales and serves numerous markets through multiple channels. Even the best e-commerce order management software may not operate at its peak due to human error and erroneous logic. Order cancellations, poor order fulfilment, and a poorer customer experience can all result from data gaps.
(2) Synchronisation Inefficiencies: Users accessing the order management system from different places may experience communication problems if bi-directional data syncing is not done properly. It's possible that inaccurate information about product inventory, pricing, discounting, etc., was recorded. Ordering and shipping errors can increase operating costs due to sluggish or inaccurate data syncing.
(3) Inadequate or Duplicate Features: Each order management system is equipped with a set of features to manage the complete order creation and fulfilment process. If a platform does not already provide all the necessary functions, then additional tools or software plugins must be integrated. Additionally, additional capabilities could be expensive for the business and add unnecessary complexity to the order management process.
(4) Difficulties with Bulk and Multiple Package Orders: Whether the e-commerce business model is B2B or B2C, bulk ordering and multiple package ordering are crucial to the expansion of any company. Orders in bulk or with multiple packages, however, are frequently complex and require extra care to complete. When this isn't taken into account by order management systems, the business is compelled to handle the procedure manually.
(5) Limited Customizability: A standardisation and consistency that an e-commerce order management solution gives to operations, supply chain, and logistics are often what convinces decision-makers to choose it. That serves as the cornerstone of high-quality service. Although most e-commerce order management platforms offer no-to-low customizability, businesses may frequently seek to tailor their order management system based on the business model and client expectations. This presents a significant difficulty.
(6) Incomplete Integration with External Tools: E-commerce is no longer the exclusive domain of the omnichannel strategy. Instead, it has become inescapable, which means that if the company grows its presence across platforms and channels, it might be necessary to link the current order management system with external solutions. The omnichannel experience for customers and the business might be significantly impacted at this point by incomplete integration or incompatibility.
(7) Subpar Service and Support: Order management systems can also cause issues when the backend service and support are subpar, in addition to software- or platform-specific issues. Although certain e-commerce order management software systems are user-friendly, others can require assistance from the staff of that specific service provider, particularly when implemented at the enterprise level and linked with other pre-existing CRM and ERP modules. The software's developers may not be equipped to offer the required technical assistance, which might quickly turn the solution into a problem.
Conclusion
When choosing an order management system, it is important to consider how to combat these difficulties because they have a significant financial impact on businesses. Look for the following characteristics in a strong e-commerce order management solution to determine which one best meets your company's requirements:
Customised Reports and Dashboards: Every piece of data about inventory should be precisely recorded, categorised, synchronised, and distributed. The OMS needs to produce thorough reports that offer in-depth analyses of your order operations.
Integrations with Partners: The OMS should provide smooth connectivity with international marketplaces, cards, shipping companies, POS systems, and ERP systems. There should be no information loss and very little delay.
Centralised View of Order Operations: The OMS ought to improve supply chain visibility and enable information viewing from a single location.
Customer-centeredness and Service Excellence: To promote enterprise-wide adoption, usage, maintenance, and frequent upgrades, the OMS must offer substantial customer service and support.
If these order management system difficulties are widespread in the current platform, deliberate steps must be taken to address them. For existing order management systems, intelligent integration and process automation should be investigated; however, if the issues remain, a new platform must be taken into consideration. Finding a system that guarantees seamless order fulfilment, cost optimization, and no process failures should be the ultimate objective.
Take a Free demonstration from the order management professionals for eComGlobus.
Top 5 benefits in E-commerce Inventory Management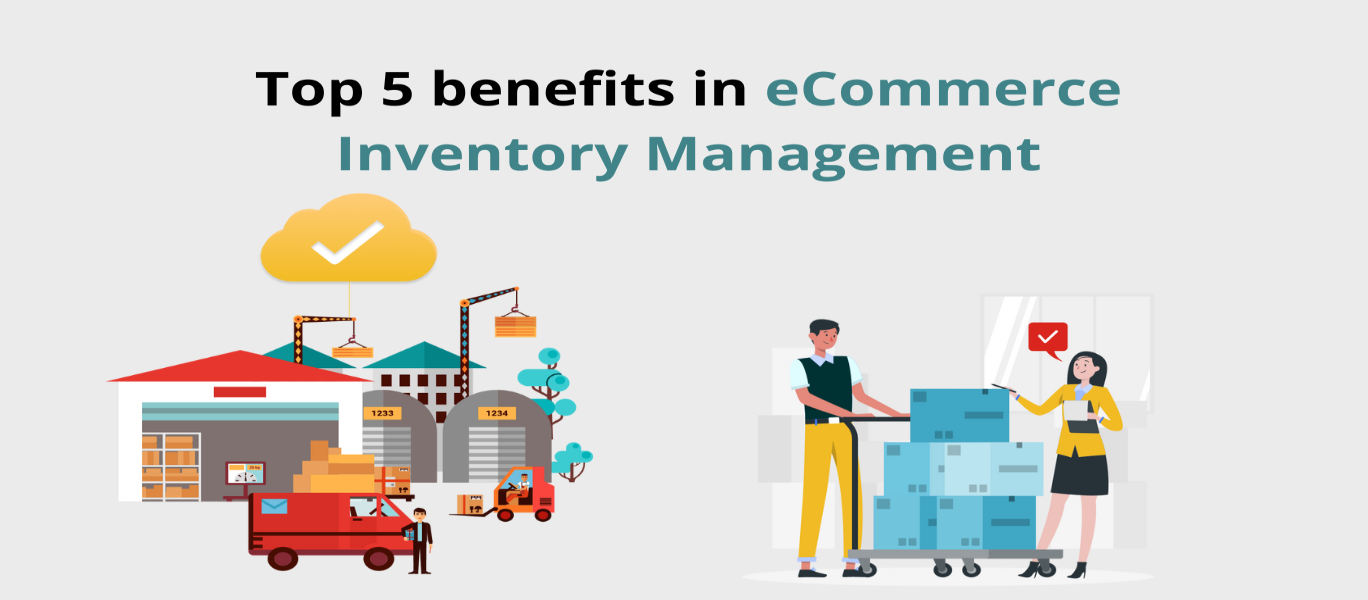 Every firm needs inventory management, but e-commerce companies that deal with enormous volumes of consumers, items, and orders have an even greater need for it.
You will be more effective and capable of expanding your e-commerce firm the faster you can establish a solid inventory management system. Even the smallest details in inventory management can have a significant impact on future profitability and scalability.
When it comes to managing inventories, there are many significant advantages. One of the biggest advantages of controlling your e-commerce inventory is that it keeps your supply chain organised and productive. Lack of inventory control could result in disgruntled consumers and shortages, therefore it's important to monitor how many goods your business is moving.
Any issues you have with inventory management could result in dissatisfied clients, protracted lead times, and overall revenue loss. The dead stock might also be a problem and harm your organisation as you strive to accomplish new objectives.
Your company will be able to get an advantage with more intelligence and money once you've fully mastered e-commerce inventory management because you'll have a better understanding of your inventory and be able to expand strategically.
What is eCommerce Inventory Management?
You probably already know how crucial inventory management is, especially for e-commerce businesses. But what exactly is inventory management? At some point or another, everyone has wondered about that. Here is a brief explanation: E-commerce inventory management involves keeping track of the quantity, location, cost, and variety of products that are offered across your entire company.
The items you monitor and manage may all be found in your warehouse or with the assistance of a third-party logistics partner (3PL). You might also need to track the goods that pass through a drop shipping or blind shipping company's warehouses if you work with them.
A 3PL might be ready or able to assist you with inventory tracking in some circumstances, but it's crucial to know which goods are overstocked, in stock, understocked, or out of stock. You won't be able to successfully manage your business if you don't understand this.
Your company's inventory is always closely related to its financial health. Inventory tracking systems allow you to determine the value of your stock as well as purchase patterns, which help you run a profitable business and consistently make wise decisions.
Following are the benefits of eCommerce Inventory Management:
Effective Business Techniques
A warehouse or online store can be created in a variety of ways. Although it's not always that easy to add a new employee or make a new spreadsheet, it can be done. Utilising warehouse management or inventory management software is a terrific method to use technology to improve the efficiency of your business operations.
You can manage your workforce, inventory, and overall warehouse efficiency with the aid of these software programs.
Your e-commerce company will flourish if you take charge of the results by analysing your current business methods critically and making every effort to make them more effective.
Maintaining a Record of All Inventory
Large companies with expansion plans will have a lot of inventory and frequently change the products that are kept in that warehouse and sold to customers. The management of their storage will get more challenging as new products are continuously added.
It's helpful that you can track all inventory products in your warehouse and keep an eye on them. Furthermore, you'll need to set up effective inventory management so that you can place new orders for stock when certain things run out.
You may make SKUs, and labels, and track all data in a shareable cloud with the aid of an effective inventory management application. A cloud-based solution is simple to expand if your company expands to encompass more than one warehouse. You won't have to worry about how you'll communicate across sites, and you can still keep track of each piece of merchandise from receipt to delivery.
Making Sure All Customers Are Content
Customers will assume that things shown as in stock on your website are available for purchase and that they are in stock.
When it comes to inventory management within your organisation, keeping your website's inventory counts correct and current is half the battle. A good inventory management system will be able to maintain accurate stock levels across all sales channels so that no item is ever "over-purchased."
Get rid of outdated and deadstock inventory
Deadstock can be a significant financial burden for your company, particularly if you have a large amount of it and are utterly unable to sell it. Inventory that is out of date is also known as deadstock. We go into further detail about the dos and don'ts of inventory management in this guide to obsolete inventory to assist you to make sure you're constantly doing everything you can to keep your inventory flow beneficial.
In the end, dead inventory will hurt your company's performance and prevent you from expanding. By keeping track of your stock counts and ordering procedures, you may simply avoid having dead stock and obsolete inventory.
Take Care of Your Clients to Keep Them Coming Back
Customers will always seek to return to a business that performs well, fulfils orders fast, and provides exceptional customer service. You'll be able to nurture your clients and keep them coming back when they're ready to place another order by adhering to these rules and keeping your inventory processes under control.
Contact Scout if you're seeking the ideal inventory management system to assist you to manage your inventory and keep consumers pleased. We'd be delighted to show you topShelf, our inventory management solution, for free.
Conclusion
An inventory management system improves productivity throughout the logistics industry. You can keep your customers happy if you partner with a warehouse that employs cutting-edge, real-time inventory management solutions.
Are you seeking an integrated B2B order management omnichannel inventory management solution for your eCommerce business? Send us an email at sales@logixgrid.com. or sign up for a demo directly here.
5 Strategies for enhancing eCommerce fulfilment strategies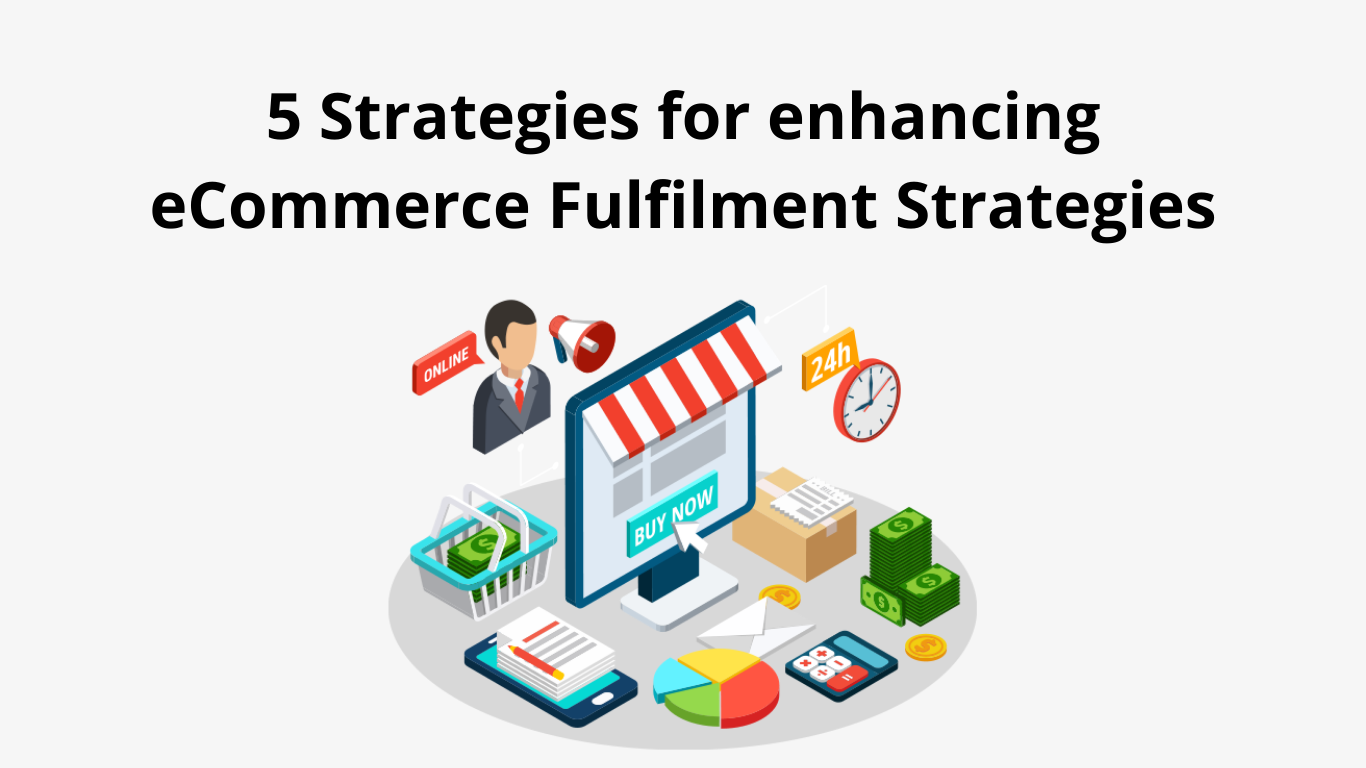 Regardless of the time of year, Pandemic has brought specific issues to eCommerce and retail firms, particularly regarding order fulfilment. Customers now choose to shop online for every product rather than visiting shopping centres and making purchases in physical establishments.
Due to the increase in online orders this year, many firms may need to modify their fulfilment procedures. What changes can and should be done, though, to streamline fulfilment?
Here are 5 tips for surviving the ups and downs of order fulfilment in the current business climate.
(1) Use multiple shipping methods : You may find it challenging to maintain short order cycles as more clients place orders online this year. A backlog of orders can form as transportation carriers become overburdened, converting what could have been a few days of consumer waiting into a week or more.
Fortunately, there are other approaches you may use this holiday season to expedite and simplify shipment. By dropshipping your products, for instance, you may rely more on the shipping network of your suppliers. Or, if the final leg of the shipping route, from the carrier facility to your customers' doors, turns out to be the bottleneck, you may decide to enlist the help of a third party, such as Uber, a fulfillment start-up, or an omnichannel order management provider to split the workload.
(2) Accept Last Mile Tracking. : It shouldn't be shocking that the idea of last-mile tracking is becoming more and more popular this holiday season even though it has in the past. The reason for this is that last-mile tracking allows customers to know exactly where their delivery is and estimate its arrival date with some degree of precision. And as a result, there is a lower chance of parcel theft as well as annoyance and confusion.
The likelihood that your consumers will keep making purchases from you in the future can be greatly improved by incorporating last-mile tracking or improving your present version to be more user-friendly and comprehensive.
(3) Strategically Distribute Inventory Throughout Your Organisation : It may take a while for many of your clients to get their orders if you ship all of your products from a single location. But if you experience a significant spike in orders towards the end of the year, your consumers may rapidly find this prolonged waiting period intolerable.
However, by studying your customers' purchasing patterns, you may more precisely forecast future sales across your business and choose the optimal locations to store your goods, whether that be a local brick-and-mortar store or a regional warehouse. Because of this, you can send merchandise more quickly and affordably, no matter where your clients want their products to be delivered.
(4) Simplify Logistics for Reverse Fulfilment : You'll notice a rise in product returns whenever there is a rise in online orders. This means that your logistics for reverse fulfilment must function flawlessly.
Otherwise, it might slow down your internal procedures and complicate inventory management.
Having an order management system that can simply log products back into your general inventory, whether they are scanned by an in-store POS system or barcode scanners in your warehouses, is one way you can make reverse fulfilment simple for your team. In addition, an omnichannel OMS can offer free shipping labels to your clients, greatly simplifying returns.
(4) Add an Advance Warehouse and fulfilment System : Today's warehousing business is seeing an increase in the prevalence of smart warehouse technologies. These systems make use of a number of interconnected technologies to increase productivity and accuracy and free up humans from laborious, time-consuming jobs. Sending workers out to find a product and deliver it to shipment is far less productive than utilising human problem solving for higher-level jobs.
These systems incorporate a number of technology elements that automate the warehousing procedure, improving the efficiency of your order fulfilment. Robotics, radio-frequency identification (RFID, a digital barcode that employs radio waves), artificial intelligence (AI), the Internet of Things, and warehouse management systems are a few of these technologies.
How does the integration of these technologies speed up order fulfilment? Consider the picking and slotting procedures as examples. RFID scanners read the tags on each product as it arrives at fulfilment centres, automatically updating the inventory levels. From there, robots take control, storing those items so they can be selected. Later, several robots assist with the selection of those things and transport them to a packing room where they can be dispatched.
The time it takes to pick and store goods as well as the amount of human mistake that might occur are both decreased by using this technology. Additionally, by automating these tasks, you won't require as many human workers, which will lower your long-term order fulfilment and shipping costs.
Efficient Order fulfilment is key to business growth
You may run your ecommerce store very easily with the help of the eComGlobus, which offers simple interfaces with a range of eCommerce marketplaces. The AWS cloud system is used by Logix eCommerce fulfilment to provide a robust and scalable infrastructure that streamlines eCommerce workflow with regard to the logistical tasks involved in delivering the cargo and offering a clear method of connecting with the suppliers.
Through the eComGlobus, you can track your inventory from all of your sales channels with complete visibility and control over your inventory. Accelerate business with the best eCommerce fulfillment system thanks to the API connections that let the system quickly exchange data with various ERP/WMS/Supply Chain solutions.
We provide a customizable fulfilment solution that enables you to alter the framework in accordance with your company's requirements and aids in telling your brand's distinctive and original tale. Return handling is available through the Logix eCommerce Fulfilment system. The technology may automatically identify defective or extra products returned by clients and provide assistance to those who need it about supplied goods.
Get in touch with our team to see how we can improve the operations of your eCommerce store quickly and easily.
Why do you need an eCommerce Fulfillment software to improve your eCommerce business?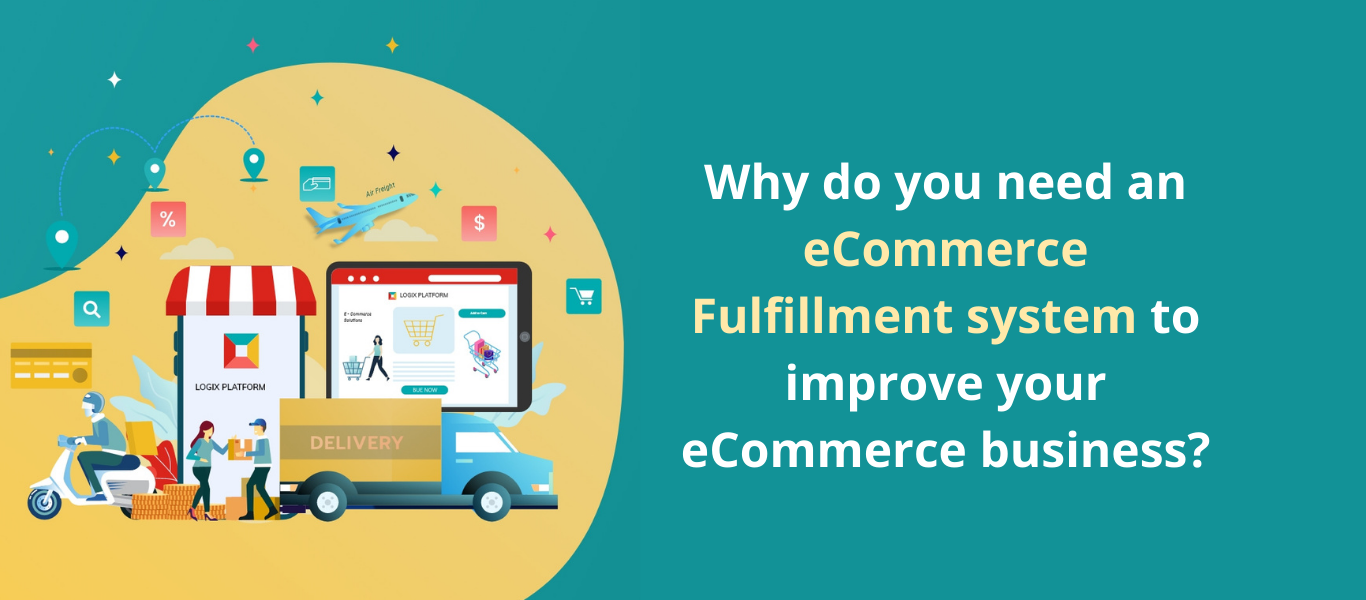 Ecommerce businesses were responsible for around $4.5 trillion in sales in 2021, and that number is expected to reach a whopping $7.5 trillion by 2023. There are millions of growing online businesses out there contributing to these high numbers. But, while it's clear there is a lot of competition in this industry, even the biggest eCommerce companies in the world like Shopify, Amazon, Magento, eBay.
Did you know :
61% of shoppers will abandon their cart if shipping, taxes, and other fees are too high, 53% of shoppers say that speed of delivery is an important factor, 38% of shoppers will never shop with a retailer again if they had a poor delivery experience & 25% of shoppers have canceled an order because of slow delivery speeds.
Why? – You could have the best product, website, and eCommerce platform in the world – but a poor fulfillment experience could ruin your customer experience and the potential for future revenue from repeat buyers.
How? – Let's look at the major reasons you need an effective fulfillment system!
Key reasons you need Effective eCommerce Fulfillment service :
(a) To Align with Consumer Preferences : Thanks to modern technology, consumer preferences have shifted over a couple of years. Now that Amazon Prime-speed shipping is the new norm, consumers have higher expectations than ever on delivering timelines.
As a result, when someone buys online, no need to wait a week to get their package- they're expecting it within a few days tops.
In fact, 47% of respondents in a recent study said they would be willing to pay extra for same- or next-day delivery and a whopping 74% of consumers who received same-day delivery said they'd be more likely to purchase from that company again.
Your eCommerce business moves fast, so you need advanced eCommerce fulfillment software to manage your eCommerce logistics requirements effortlessly. If your shipping speeds are slow, your customers simply won't buy from you again. Instead, they'll turn to the competition who can deliver literally on the shipping timelines they're expecting.
(b) To Improve Accountability : Today's consumers are also demanding more transparency and accountability from the brands they buy from. For example, let's say your website boasts that you have guaranteed two-day shipping. If your eCommerce fulfillment company isn't actually able to deliver on that timeline, your customers won't be very happy when they're sitting around waiting for a package they expected to arrive days ago. If they decide to call you up to inquire about where their package is, but you aren't able to tell them because your fulfillment provider doesn't give you visibility into their shipping processes, they'll be even less thrilled.
This negative customer experience can prevent your customers from ever buying from you again. Furthermore, they could leave a negative review online about your slow shipping speeds, lack of transparency, and unkept promises that could prevent new customers from giving your eCommerce business a chance. So, the key here is to not make promises you can't fulfill. Working with a fulfillment provider who can guarantee predictable, accurate, and timely fulfillment will ensure full visibility equals a better customer experience—resulting in happier customers and more positive reviews.
(c) Better Customer Experience : With millions of eCommerce businesses out there, you need a way to differentiate. By aligning your eCommerce fulfillment services to meet modern consumer preferences (like the fast shipping speeds and increased transparency we just discussed), you can deliver the customer experience your buyers are actually looking for. This can give you a huge competitive advantage over other eCommerce businesses who are simply ignoring changing consumer preferences, or simply don't have the resources to meet them.
Providing a smooth, seamless customer experience is so valuable because it can turn one-time buyers into repeat, loyal customers who are advocates for your brand. After all, if a customer has an amazing experience buying from your brand, next time they need something you offer, why would they even bother looking at the competition? This can help you drive additional revenue through repeat business, making it possible to meet your business growth goals sooner!
(d) To Improve Efficiency While Decreasing Costs : Robust eCommerce fulfillment processes will help your business become more efficient while saving you time and money. Plus, a positive fulfillment experience that translates into a great customer experience will help you attract new customers and better satisfy your existing ones. Between the cost savings of outsourcing effective eCommerce fulfillment services and the additional revenue from repeat customers, you can put that extra income back into your business.
For example, you could invest in developing a new product, increase your marketing budget, hire additional employees, or allocate more resources towards your customer service initiatives. At the end of the day, eCommerce order fulfillment isn't just about shipping products. If done correctly, it can be a powerful way to realize higher profit margins that makes it possible to expand your business faster and with ease!
Benefits offered by Logix eCommerce fulfillment Software :
Logix eCommerce fulfillment system that supports easy integrations with a variety of eCommerce marketplaces helps you manage your eCommerce business very easily.
Here are some of the benefits offered by Logix eCommerce Fulfillment System :
1. Cloud-based eCommerce fulfillment system : Logix eCommerce fulfillment running on AWS cloud system to secure durable and scalable infrastructure which eases eCommerce workflow in regards to logistics activities associated with delivering the shipment and providing a transparent process to connect with the suppliers.
2. Inventory management : Are you selling through multiple e-stores? If yes then, you can track your inventory from all your sales channels through the Logix eCommerce fulfillment system with full visibility and control over your inventory.
3. API Integrations : With Logix Platform, accelerate business through the API integrations which allows the system to easily exchange information with different ERPs/WMS/Supply Chain Solutions.
4. Customized System : We offer a customized fulfillment solution that enables you to customize the system as per your business needs and help your brand showcase and create its own unique story.
5. Return Management : Logix eCommerce Fulfillment system offers return handling. The system can auto-detect defective or excess products back from customers and support customers who have problems with delivered products.
To enhance your customer's experience in a fast and effortless way, you can get in touch with our team and see how we can help.
What is the Agile Methodology and How Does it Apply to Ecommerce business?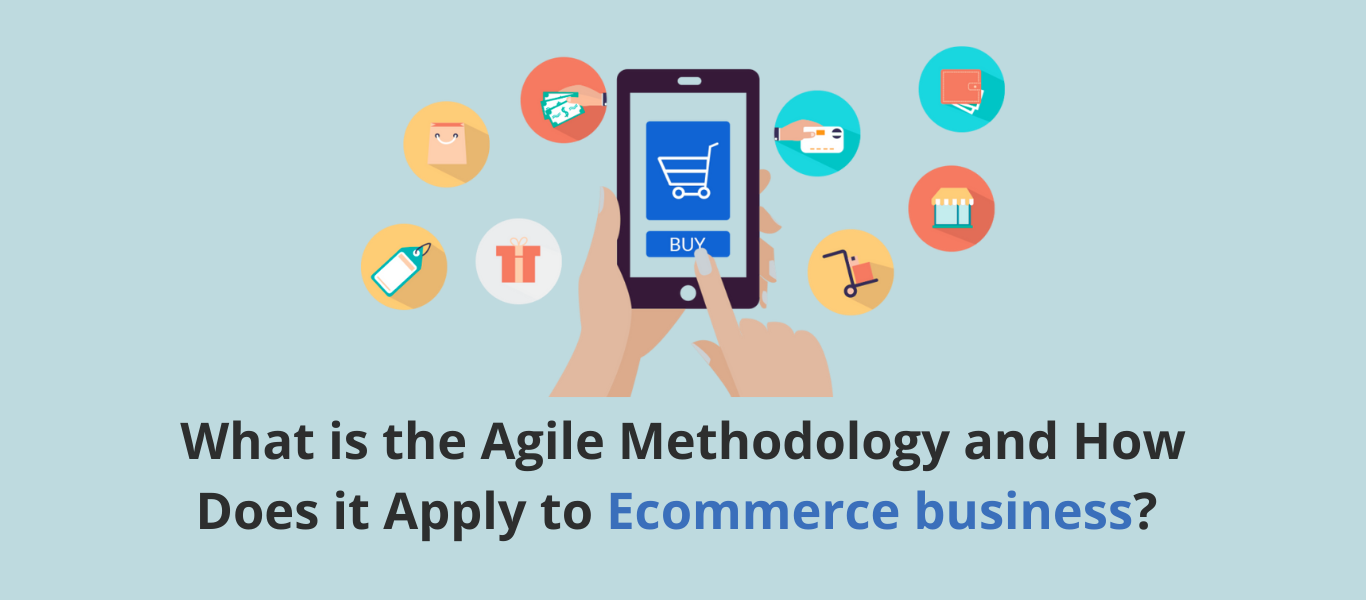 Scaling an eCommerce business can be hard work, but having an agile mindset can make it easier to grow the business. In fact, a recent global survey reveals that a majority of executives believe being agile plays a crucial role in delivering the right products and services, accelerating decision-making and speed to market, improving the customer experience, and staying ahead of the competition.
Agile Methodology ?
We are surrounded by new technologies all around us, which in turn help us to develop even more modern technologies. The Agile methodology is one of such developments, which is specially created for eCommerce websites, apps and software.
Individuals and interactions over processes and tools
Working software over comprehensive documentation
Customer collaboration over contract negotiation
Responding to change over following a plan
In eCommerce business, the agile methodology involves uncovering challenges and developing solutions through collaborative, self-organized, and cross-functional teams. It is concerned with the flow and performance of the entire eCommerce system and also involves creating a feedback loop to increase product efficiency while encouraging continuous improvement through testing.
Benefits of Being Agile in Ecommerce business :
While not all companies have adopted the agile methodology, studies show that 98% of companies that began using agile benefited from it. In addition, research from the Project Management Institute found that Agile organizations are more likely to finish projects on time (65% vs. 40%) and hit all their goals (75% vs. 56%) when compared to non-agile teams. Agile companies even grew their revenue 37% faster! Here are the top seven advantages of agile methodology for eCommerce businesses.
1. Improving Speed and Flexibility : In today's competitive marketplace, eCommerce businesses need to battle everyone from disruptive startups to Amazonian giants. This makes the prospect of a fast-moving, adaptive organization highly appealing. Agile methodologies streamline production from the initial conception of an idea to the final deployment stages, keeping eCommerce business highly flexible and adaptive. It also helps them meet the ever-changing needs of modern consumers by allowing for quick product changes based upon user feedback.
2. Meeting and Gauging Market Needs : What do consumers want? And what might they want that they don't yet even know they need? Many eCommerce businesses need to introduce new products and features consistently to generate interest and revenue. By meeting consumer needs, and introducing new products or features proactively to determine whether there's any interest, companies can stay on the cutting edge and serve customers in the best possible way.
3. Creating Higher Quality Products : With the agile methodology, everything goes through regular and rigorous QA checks to ensure customers receive the highest quality products. Of course, it doesn't stop there; QA is continuous, and ways to improve deliverables are always in development (whether it's a new or complementary product or simply adding on a new feature).
4. Taking Fewer Risks Through Transparency : The agile methodology provides transparency or visibility into all aspects of the business to all departments, from marketing to design to logistics. When all the players are on the same page, working together to achieve the same goal, the risks of failure are reduced considerably.
5. Conducting Continuous Testing : Quality assurance checks are critical for product launches and for maintaining consistency over time. Following the agile methodology, products are tested in a variety of ways as soon as they are developed, and any defect can be identified and ironed out. During testing, opportunities may also be discovered that can be implemented to improve the final product.
6. Improving Customer Experiences : By following an agile methodology, eCommerce business can develop a higher-quality product, quickly make improvements and add new features, and meet and exceed customer expectations. The result? Happier customers who will make more purchases and act as brand advocates, telling others about their positive experiences. Read more about developing a customer experience strategy.
Conclusion :
As your eCommerce business evolves and grows, following an agile methodology process can help you improve your products, increase your revenue, and build your customer base. To do this, however, it's important to keep the lines of communication open, cultivate a collaborative work environment, and embrace the right technologies.
With eComGlobus as your technology partner, you can also scale to your full potential and improve the customer experience by using our eCommerce fulfillment system, which manages your warehouse operations and eCommerce fulfillment process. eCom Globus offers visibility to your entire inventory and manages supply chain fulfillment operations from the distribution center to the store.
5 Ways To Manage eCommerce Returns To Increase Efficiency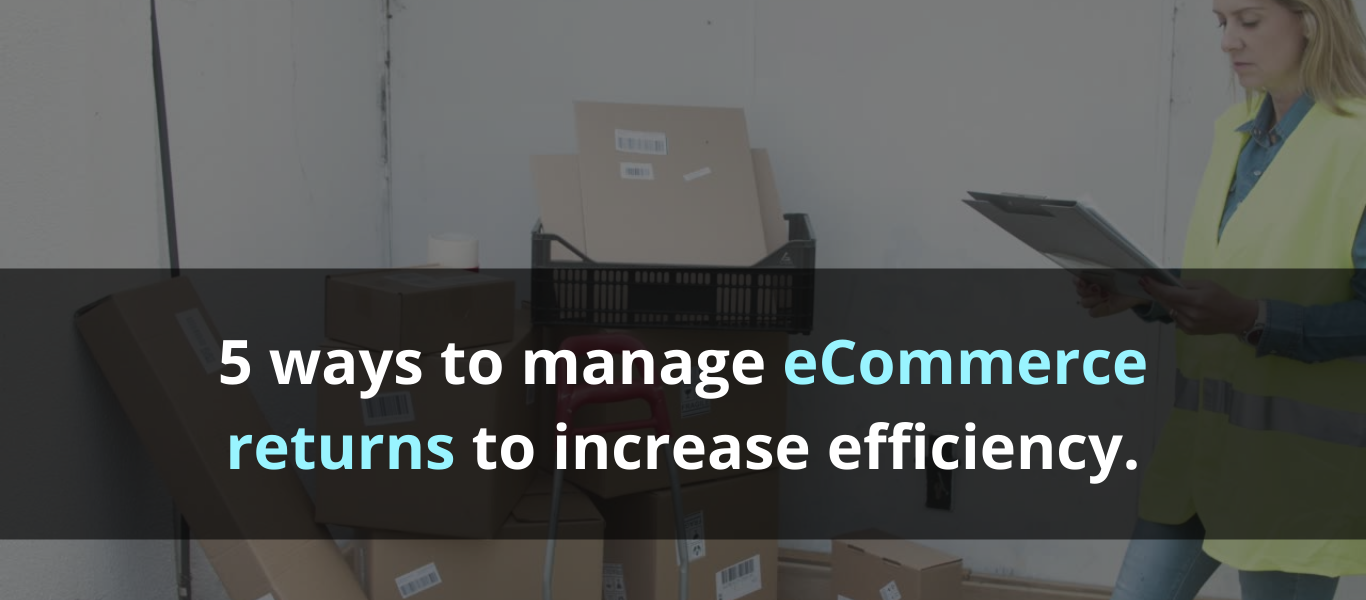 Managing eCommerce returns can be a headache for online retailers. If a rise in sales makes eCommerce merchants extremely happy, an increase in product return neutralizes that happiness.
There is no doubt that online stores have higher return rates than offline stores and there are strong reasons to back this fact.
Basically, customers can try out a product in a physical store. They can touch it, hold it, feel it and find out the flaws at that moment, which is not possible in the case of an online store. This is why e-retailers face excessive returns and it becomes quite a difficult task to manage them.
We will discuss how you can manage eCommerce returns with a best return management system and improve customer satisfaction.
1. Create a flexible Return Policy :
One of the important points in the return management best practices is to craft your return policies well. Be clear about the terms and conditions. Mention what kind of returns you accept, what should be the condition of the item to get its replacement, what is the time span for returning an item, what is the procedure to raise a return request, etc.
A well-written eCommerce return policy helps a user to understand your return management procedure better. Also, avoid using any hard language that is difficult for a user to understand. Product return policy not just helps you handle customer returns efficiently but also encourages users in their purchase decision process.
2. Allow Customers to make a Return Choice :
Adding to the list of eCommerce return management is letting customers decide what they want to do with the product they wish to return. Whether they want to replace the product, raise a full refund or need the product amount in the form of points/store credits, the choice should be left to them.
Providing a return choice is a persuasive tactic to make customers return to your store in the future. For example, if a customer opts for the credits worth the product amount, providing him with that would ensure that the customer is going to come back to your store in the near future and make a purchase.
3. Automate your Return Process :
If you have a large e-commerce store, you will have more product returns. Imagine how difficult it would get if you manually handle product returns. Moreover, it will be very time-consuming.
Automating your eCommerce return with the best return management system can save you a lot of time and effort. You would not need to handle each and every step on your own. From informing the customer about the placed return request to notifying them about the return status until the process is over, make everything an automatic process. This will decrease the return processing time.
4. Speed up your eCommerce returns :
Speeding up your return process is a vital point in eCommerce return best practices.
Right after a customer places the return request, they expect their money's worth in some form to the earliest. Though it can take a few days at least, you should not make your customers wait for too long. A long delay creates frustration among customers and they would think a few times before placing an order from your store again. Make sure the returns are processed as quickly as possible. It improves customer loyalty.
5. Provide free shipping :
Customers do not like to pay an extra penny for returning a product. In fact, no one would like to pay some extra amount for a product that is defective or doesn't match their expectations. If there is already a defect and on top of that, customers are asked to pay a small charge for returning it, they will feel annoyed.
To avoid this, you can allow free shipping on returns and keep your customers happy and satisfied.
How can you manage your returns easily with the eComGlobus Return Management System?
Considering all the above points, if you want to handle your product return easily and make the product return process in your store well-structured, you can opt for eComGlobus, a Complete eCommerce fulfillment platform to manage your eCommerce logistics operations.
With eComGlobus, manage your returns efficiently while reducing your processing and logistics costs. Highly configurable returns processing solution with guided workflows for receiving, inspecting, and grading product returns.
eComGlobus will be providing features for accepting the return orders and assigning them to 3PL for pickup. With the eComGlobus Return Management System, you can track the movement of the reverse shipment easily in a single platform.
Top 4 Ways To Improve Your eCommerce Order Fulfillment Process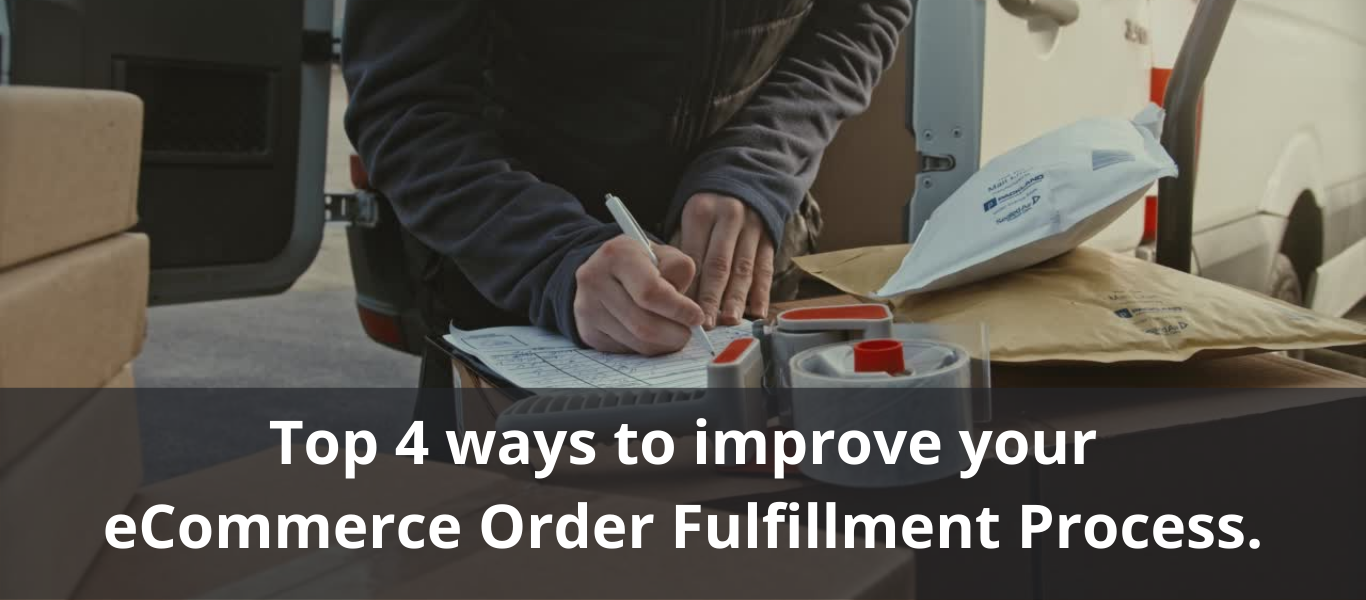 Your eCommerce order fulfillment process plays a pivotal role in the success of your online business. It affects both the customer experience and the effectiveness of your operations. as e-commerce continues to grow and have an outsized influence on seasonal shopping periods, it's more important than ever that retailers continue to improve their e-commerce order fulfillment. However, by creating an excellent post-purchase experience for your audience, you can quickly turn order fulfillment from a cost center into a revenue driver for your company.
In this blog post, we will talk about the top 5 ways to improve your order fulfillment so that you can boost the efficiency of your eCommerce business and streamline your customer experience.
1. Classify your inventory :
To improve your eCommerce order fulfillment process, you need to work on classifying your inventory. One of the most common ways to organize your products is putting stock together based on how fast it moves. It enables you to maintain sufficient stock levels of fast-moving items. Grouped items can be placed in warehouses so fast-movers are identified in a particular area while the slow-movers can be found within a different section. Classifying your inventory in this manner ensures that appropriate stock levels are maintained for each product category and that you also don't run out of stock.
2. Maintain an attractive returns policy :
Your eCommerce returns policy is an essential part of your order fulfillment process. You need to have an effective returns policy in place so that you can process returned orders and issue refunds when needed. A returns policy also has a big impact on whether or not a customer completes a purchase with your business.
3. Automate your order processes :
Integrating and automating your order management enables orders to be generated automatically, invoices pre-pared to send when shipping and reminders to follow up with customers to ensure satisfaction and repeat sales. And that's not all. Automation also decreases your operational costs and greatly reduces the risk of human error at the same time as creating sales opportunities. With an inventory and order management system in place, you will benefit from more visibility of your business processes as a whole. You can then analyze each of these and identify ways to speed each one up.
4. Understand your order fulfillment cycle time :
One of the first things to do when it comes to improving your eCommerce order fulfillment process is to work out your order fulfillment cycle time. Total order fulfillment cycle time= Source time + Production time + Delivery time.
Source Time : When the customer makes an order online to your business accepting that it has the correct raw materials available to start the order.
Production Time : The time when it takes to manufacture, finish and pack the order.
Delivery Time : The time frame between shipping the order from your warehouse to its arrival at your customer's specified delivery location. Once you understand your order fulfillment cycle time, you can start to identify areas for improvement, such as increasing efficiency through automation or similar.
Are you looking for an eCommerce fulfillment system to manage your inventory and order fulfillment?
Logix eCommerce fulfillment system manages the entire eCommerce order fulfillment process by offering full visibility and control over your inventory & billing from integrations to fulfillment to shipping and returns.
If you have your own Shopify store and are looking for an eCommerce fulfillment platform to manage your eCommerce logistics operations then eComglobus is the best platform for you. eComglobus is an All-in-One eCommerce fulfillment platform that offers advanced eCommerce logistics features which will support you to manage your warehouse operations, fulfillment, procurements, last-mile delivery, return and refund management in a single platform.
Complete Guide on eCommerce Fulfillment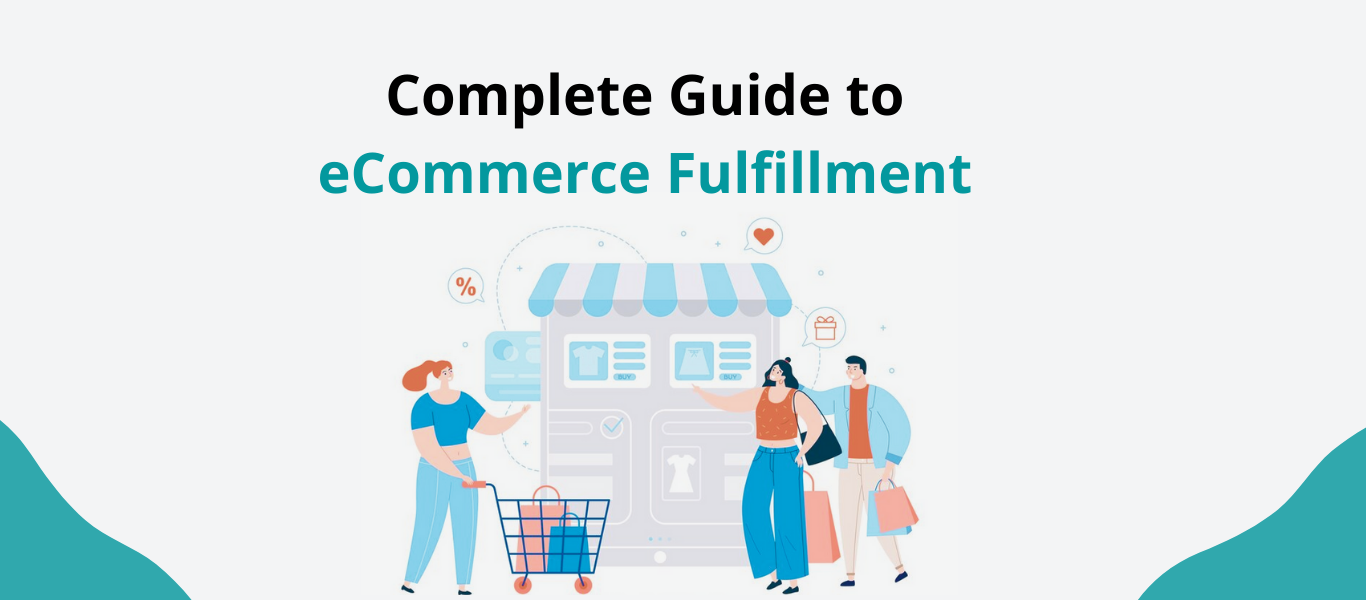 E-commerce fulfilment is the series of steps you take to complete customer orders. The process includes inventory and order management, warehouse organisation, packing and shipping, customer communication, and much more.
Whether you use third-party fulfilment services or handle orders in-house, ensure your operations meet customer demands. This encourages your customers to buy from you repeatedly and spread the word about your exemplary customer service.
Increasing product demands may require you to get additional support. In that case, you need to select an advanced e-commerce fulfilment system that can help accommodate your business growing needs. How well your business carries out its eCommerce fulfillment is one of the prime determinants of whether your online business is going to succeed or fail. A well-run eCommerce fulfilment system will aid in expanding your business while also saving you time and money. The best eCommerce fulfilment services and strategies help in transforming the cost centred logistics into revenue drivers by improving conversions and driving more sales.
What is Involved in the eCommerce Fulfillment Process?
An eCommerce fulfilment process involves receiving, storage, order processing and returns for a product to reach the customer after they have placed their order through your eCommerce platform. eCommerce fulfillment process can even extend up to reverse logistics in case if the customer chooses to return the product. The goal of your eCommerce fulfillment process is to make sure your customers are happy and satisfied with your product and that your business succeeds.
What to Consider When Looking for an eCommerce Fulfillment Solution?
Finding an eCommerce fulfilment solution that fulfills your business needs is important. To do so, the following features are a must in your eCommerce fulfilment solution:
Easy Set-up : Choose an eCommerce fulfilment solution that is easy to set up and integrate with your eCommerce platform. Such a set-up should let you synchronise your online store with your fulfilment service, allow importing of orders, configure shipping options, send data and facilitate returns to mention the few important functions.
Inventory Management Features : Using an eCommerce fulfillment service that gives you real-time data of your inventory's status, quantity and locations are important to enable faster and cheaper shipping and thereby more customer satisfaction and retention. Your eCommerce fulfillment service provider should have an inventory management system such that it lets you replenish your inventory quickly and also send faster inventory transfer requests.
Analytics and Reporting : The eCommerce fulfillment service that you choose should have a system in place for analytics and reporting. The analytics and reporting done should be for storage costs per unit, shipping costs and fulfillment centres which need restocking. These analytics will help you to know about the cost of goods sold incurred and how you can reduce it and thereby earn more, improve your cash flow statement, and have a positive balance sheet.
How can LogixEcom help you manage your eCommerce store with an advanced eCommerce Fulfilment System?
With eComGlobus, get access to advanced eCommerce fulfilment solutions to manage the entire logistics operations of your shopify store very easily. With eComGlobus, get benefits of amazing eCommerce logistics features that will support you to manage your warehouse operations, fulfilment, procurements, last mile delivery, return and refund management.
If you're looking for an all-in-one eCommerce fulfilment system to manage the eCommerce logistics operations of your eCommerce store then get in touch with us.
Top 4 strategies to fulfil eCommerce customer expectations in 2022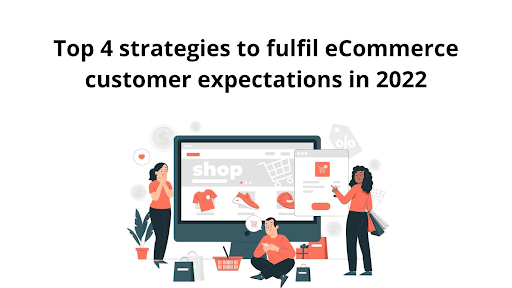 If there's one thing we've learned about eCommerce, it's that customer expectations change all the time. The digital landscape has never been more dynamic — or competitive – than it is now, because of the COVID-19 pandemic.
To stay relevant, legacy merchants who were once mostly physical and mortar have been obliged to spend considerably on their online presence. The epidemic has put a lot of pressure on merchants to keep up with consumer expectations for near-instantaneous, omnichannel service, from same-day delivery to social commerce and self-service solutions.
It will be difficult to match client expectations in 2022 if you don't have the following strategies well-integrated into your operation. As ongoing supply chain disruption and shifting reasons for shopping online continue to affect consumer behaviour, you may give your company a competitive advantage by taking action now:
(1) Provide several payment choices. : Accepting the typical payment card alternatives is no longer adequate for your online store. The number of payment alternatives available to consumers has grown in tandem with the expansion of digital purchasing capabilities.
Consumer shopping behavior has shifted dramatically as a result of the rise of digital wallets and cryptocurrency. Credit cards are losing popularity.
Due to strong patronization by young consumers, the use of Buy Now, Pay Later (BNPL) programs nearly doubled compared to the same period in 2020. It's critical to offer a variety of debit and layby options if you want to attract the discretionary spending of younger customers. One of the most common reasons for eCommerce cart abandonment is a lack of attractive payment choices. If customers have an option between you and another vendor who provides BNPL services, it's very clear who they'll choose. You can increase conversions and exceed customer expectations for a smooth payment process by giving customers flexibility and choice in how they go through the checkout process.
(2) Ecommerce returns as a growth strategy. : Customers return things for many reasons, ranging from a simple change of heart to more sophisticated issues such as damaged or defective merchandise.
Return management will be one of the most essential CX management techniques in 2022, with supply chain difficulties expected to persist for some time. You're missing out on a major chance to add revenue-saving activities into your return workflow if you regard returns as the end of a customer relationship rather than an opportunity to create customer loyalty. As the epidemic compels customers to rely more on internet purchasing, they have more expectations for a variety of return options to fit their needs. According to Magneto Solutions, 69 percent of consumers desire the ability to return online purchases to a physical store, and more than half prefer extended return/exchange windows. Your firm can streamline the return experience and sustain client relationships by investing in a variety of tactics such as in-store returns, self-service return portals, and free return shipping for exchanged items. Consumers are far more inclined to shop with your business in the future if they know the return process is simple.
(3) Bringing in-person experiences to the digital realm : While many consumers are turning to eCommerce out of necessity, there is a growing demand for immersive shopping experiences that counteract the impersonal nature of online purchasing.
Over a fifth, (22%) of returns are made because the goods do not look like what the customer expected when they bought them. Augmented Reality has been a game-changer because it provides the immersive quality that eCommerce frequently lacks, allowing customers to 'experience' things before they buy them and see how they will look. Such tactics, when combined with real-time chats with customer service employees via live chat, go a long way toward reducing return rates.Some digitally native firms are taking it a step further by moving online shopping away from static product catalogs and toward 3D-rendered virtual store experiences, where customers can browse real product displays and even converse with avatars dressed as store personnel.As these tools grow more popular, failing to embrace their potential will make your company appear behind the times. The more enjoyable your shopping experience is, the more likely shoppers will become paying customers.
(4) Putting money into social commerce : Getting new clients has never been more difficult — or more expensive – than it is right now. Increased competition, lesser organic reach, and greater sponsored search prices have rendered many client acquisition tactics unworkable in the long run, even as more customers migrate online to satisfy their requirements.
Which is the more cost-effective option? You should meet your clients where they are already.
As social media platforms become the primary means for researching companies and items, social commerce, in which consumers may complete their full purchase trip within a social media app, has exploded.
One of the most significant benefits of social commerce is that the majority of digitally native firms are already heavily reliant on social media for brand storytelling and community building, especially in the COVID-19 era, when in-person activations are risky. Social commerce is merely an extension of these capabilities, as it eliminates the need to direct potential consumers away from your profile to complete transactions – a friction point that might cause shoppers to abandon your funnel.
However, if you're going to invest in social commerce, you need to be highly aware of what your customers want. To develop consumer confidence and readiness to purchase from your business, high levels of social proof are required, which involves being very active in communicating with your customers across platforms. Responding to comments, soliciting input on new products, and finding pain points in the purchasing process are all ways to encourage your followers to buy.
eComGlobus: Building Memorable E-Commerce Experiences
It's not just about location or how quickly you fulfil orders to make fulfilment a competitive differentiation for your ecommerce firm. It's also about providing a great buying experience that personalises every touchpoint, from the first website visit through the delivery of a package to your customer's door. eComGlobus are committed to assisting merchants in growing their businesses by improving the consumer experiences both before and after the sale. Merchants can create flexible, responsive shopping journeys and fulfilment strategies that enhance customer satisfaction and loyalty by combining best-in-class ecommerce fulfilment with advanced personalisation and customer support during the purchasing trip.