Top 7 Challenges of Order Management System in E-commerce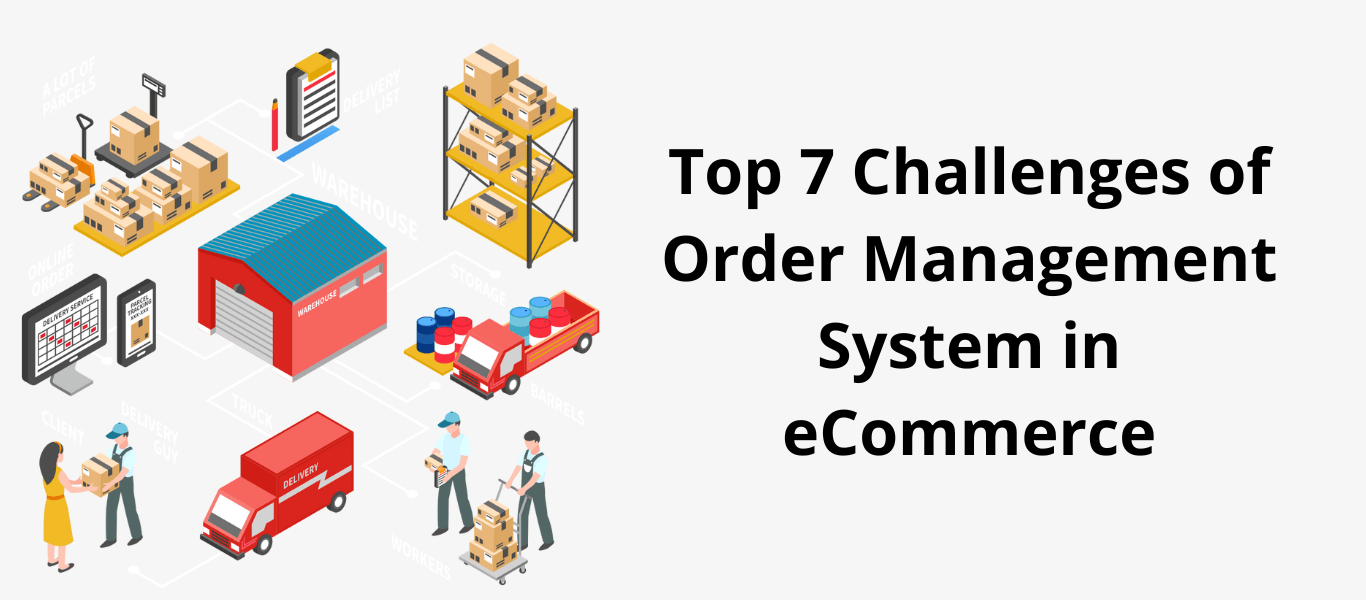 Getting customers on board was the largest difficulty for early adopter businesses when e-commerce was still the newest method of conducting business. However, as it gained popularity, businesses rapidly understood that the actual difficulty resides in coordinating order processes across many sales channels. Managing and completing orders effectively is a great method to guarantee a positive client experience in the face of increased competition.
Because of this, a good order management system is crucial for e-commerce service excellence. Effective inventory management is made possible by a competent e-commerce order management system, and this indirectly lowers the liability of cancellations and returns. If the business has a compatible ecommerce order management platform, millions in operating costs can be saved, and billions in brand equity can be added.
Every e-commerce company must, however, deal with a few fundamental difficulties with order management systems. By recognizing and fixing these issues, you can overcome them and create a long-lasting e-commerce business.
The Order Management System's Seven Common Obstacles
(1) Data discrepancies and gaps: Millions of touchpoints become vulnerable to data gaps and inconsistencies when an e-commerce organisation scales and serves numerous markets through multiple channels. Even the best e-commerce order management software may not operate at its peak due to human error and erroneous logic. Order cancellations, poor order fulfilment, and a poorer customer experience can all result from data gaps.
(2) Synchronisation Inefficiencies: Users accessing the order management system from different places may experience communication problems if bi-directional data syncing is not done properly. It's possible that inaccurate information about product inventory, pricing, discounting, etc., was recorded. Ordering and shipping errors can increase operating costs due to sluggish or inaccurate data syncing.
(3) Inadequate or Duplicate Features: Each order management system is equipped with a set of features to manage the complete order creation and fulfilment process. If a platform does not already provide all the necessary functions, then additional tools or software plugins must be integrated. Additionally, additional capabilities could be expensive for the business and add unnecessary complexity to the order management process.
(4) Difficulties with Bulk and Multiple Package Orders: Whether the e-commerce business model is B2B or B2C, bulk ordering and multiple package ordering are crucial to the expansion of any company. Orders in bulk or with multiple packages, however, are frequently complex and require extra care to complete. When this isn't taken into account by order management systems, the business is compelled to handle the procedure manually.
(5) Limited Customizability: A standardisation and consistency that an e-commerce order management solution gives to operations, supply chain, and logistics are often what convinces decision-makers to choose it. That serves as the cornerstone of high-quality service. Although most e-commerce order management platforms offer no-to-low customizability, businesses may frequently seek to tailor their order management system based on the business model and client expectations. This presents a significant difficulty.
(6) Incomplete Integration with External Tools: E-commerce is no longer the exclusive domain of the omnichannel strategy. Instead, it has become inescapable, which means that if the company grows its presence across platforms and channels, it might be necessary to link the current order management system with external solutions. The omnichannel experience for customers and the business might be significantly impacted at this point by incomplete integration or incompatibility.
(7) Subpar Service and Support: Order management systems can also cause issues when the backend service and support are subpar, in addition to software- or platform-specific issues. Although certain e-commerce order management software systems are user-friendly, others can require assistance from the staff of that specific service provider, particularly when implemented at the enterprise level and linked with other pre-existing CRM and ERP modules. The software's developers may not be equipped to offer the required technical assistance, which might quickly turn the solution into a problem.
Conclusion
When choosing an order management system, it is important to consider how to combat these difficulties because they have a significant financial impact on businesses. Look for the following characteristics in a strong e-commerce order management solution to determine which one best meets your company's requirements:
Customised Reports and Dashboards: Every piece of data about inventory should be precisely recorded, categorised, synchronised, and distributed. The OMS needs to produce thorough reports that offer in-depth analyses of your order operations.
Integrations with Partners: The OMS should provide smooth connectivity with international marketplaces, cards, shipping companies, POS systems, and ERP systems. There should be no information loss and very little delay.
Centralised View of Order Operations: The OMS ought to improve supply chain visibility and enable information viewing from a single location.
Customer-centeredness and Service Excellence: To promote enterprise-wide adoption, usage, maintenance, and frequent upgrades, the OMS must offer substantial customer service and support.
If these order management system difficulties are widespread in the current platform, deliberate steps must be taken to address them. For existing order management systems, intelligent integration and process automation should be investigated; however, if the issues remain, a new platform must be taken into consideration. Finding a system that guarantees seamless order fulfilment, cost optimization, and no process failures should be the ultimate objective.
Take a Free demonstration from the order management professionals for eComGlobus.